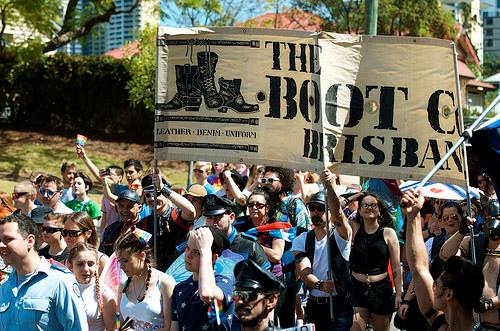 Posted on: September 25, 2015 at 9:40 am
A contingency of BootCo. boys marched in the Pride Fair Rally on September 19. Marching from Ann St. to New Farm Park, we were strategically placed near those sexy men in their uniforms (The Police and EMS who were allowed to march for the first time in their uniforms), with some Brisbane Leather Pride people in the mix as well.
At Fair Day the stall attracted interest, as did the balloon popping Single Tail Whip entertainment. While in the uncensored tent Maximus had a packed house with his rope bondage demo, Pup Spanky and Pup Lucky with their pup play demo, and 13 and his Sir for a Cigar and then Impact play demo.