The newly elected committee are committed to increasing the value of the club to its members and focusing on our regular events and the upcoming Leather Festival. Cyll Duncan in his closing speech said "…he wants members to feel that Bootco is the place to come." The club would like to thank all our sponsors that supported the club over 2018 and welcome our new sponsors for 2019. The club in 2020 will reach another milestone celebrating its 30th Birthday.

President – Cyll Duncan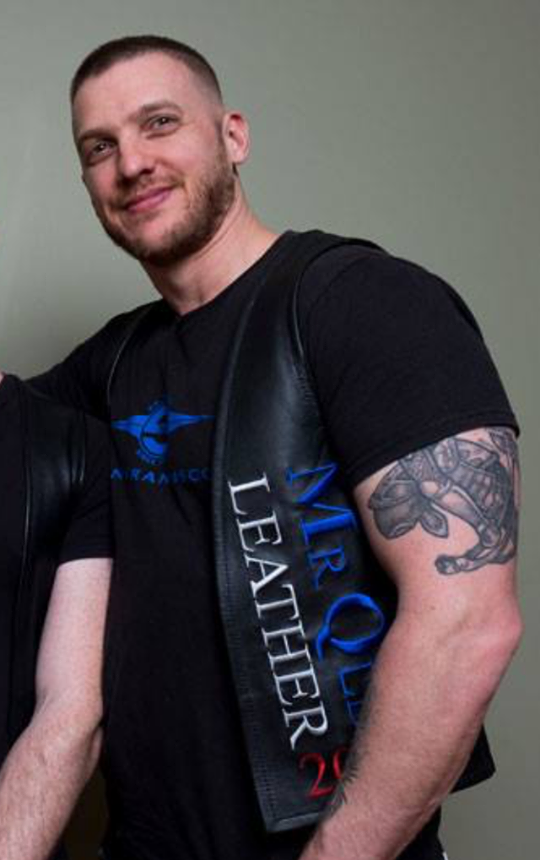 I fell in love with Bootco since I first came to a pub night in 2008 joining as a member soon after. I served on the committee between 2012 and 2015, including two years as club secretary. I was also chosen as Mr QLD Leather 2013 competing with my closest friends.
I have attended leather and kink events in London, Berlin and San Francisco and have worn my club patches with pride. As President my aims are to make out monthly pub nights and events the best they have ever been creating a space that our members and guests feel they can explore their kinks with enthusiasm. I am extremely proud to be part of this committee and to have the honour to lead the club.
Vice President – Bruce Jones (Daddy Bruce)

I have been attending Boot Co. events since the early 2000s, though it took a little longer before I became a member of the Club. After being a door volunteer for a couple of years, I joined the Committee in 2018 and became joint Boot Youth Co-ordinator with Steve Kells at the beginning of this year.
On two occasions I have been chosen as Qld Leather Daddy: 2016 and 2018. This has provided an avenue for me to support and advance the welfare of members, particularly in the area of emotional welfare and mental health. I have a long-term passion for all aspects of Leathercare, Leather History and the semiotics of Leather Culture.
I'm honoured to take on the role of Vice President, to support Cyll Duncan in the task of advancing the Club and to mentor and upskill a new generation of Club members so they will be equipped to continue the proud history of the longest running Leather club in Australia.
Secretary – Scott Maxwell
I have been coming to Bootco for around 5 years and am learning more about myself and my kink all the time. I have a huge leather addiction, not only kink wear but bag, shoes and much more. Last year I took that passion and turned it in to a business.
Together with my partners Brock and Jeff we formed No Mercy Gear and began producing hand-made leather gear with the aim of doing something different and affordable for all. For many years I have stood on the side lines, made many friends and had a blast. Now I want to get in and help the club grow and evolve.
I am pleased to be able to help organise our 30th birthday bash and gain a better understanding of leather and how the leather community works
Treasurer – Benjamin Bullivant (Pup Skout)

Benjamin Bullivant was titled Mr Queensland Leather in 2016 and has severed on the BootCo committee for 5 years in the position of Treasurer. Ben is also known as Pup Skout and enjoys all aspects of the leather and BDSM / Kink lifestyle. He is boy to Sir Twitch, partnered to 13 Bootblack.
He currently practices a D/s and pup play dynamics. Ben holds community high and is the founding President of Q-PAH; he is also very enthusiastic and passionate about leather and its traditions, while valuing the contemporary aspects.
Committee Member – Brendan J osey

I have been a member of BootCo since 2015 when I came to my first pub night with a friend and some nerves. The boys at Boot Youth were very welcoming, and I quickly made lifelong bonds with those in attendance. Since then I have pivoted from participating to facilitation, and have helped to run a few of the classes.
I hope to keep BootCo an inviting and welcoming place for those new to the scene and community.
Committee Member – Christopher Dadson

Being apart of BootCo since July 2018, I have found the club a strong foundation to be able to express and expose myself to wider BDSM, kink and leather community. Throughout my time, I have been able to develop a love and fascination with leather especially.
I have slowly been able to take inspiration from those within BootCo and in the 2019 Sydney Gay and Lesbian Mardi Gars, I was able to publicly for the first time express myself in leather to those around me. I hope to be able to represent all generations of BootCo with respect, integrity and professionalism to bring the club to the standard that we desire, feel safe and enjoy coming every event.
Committee Member – Matthew Stevens

I first attended Boot Co in the late 90's and had a 12 year gap before starting to attend regularly again in the last few years. I was happy to join the Committee last year and enjoyed my brief term as Secretary. This year as a committee member I aim to grow Black & White, with Heart and No Longer Blue into an effective and enduring Fundraising Arm of Boot Co.
I will graciously accept ideas and support from fellow members and the wider community as this Sub Committee develops. I continue to be inspired by the stories and journeys of my fellow members as I slowly get to know you all and am often surprised by the contrast between day jobs and night time antics. I love exploring fetish and role play and expanding my leather wardrobe to express my inner self in my outer wear.
I respect and hope to honour the efforts of previous Committees and hope my contribution to the behind the scenes elements of running the club, in some way reflect the love I have for my Leather Brothers.
Committee Member – Steve Kells

I have been in the club since July 2018 as I signed up as a member on my first night at Boot Co. I took on the role of boot youth coordinator when lee left for Canada and working alongside Bruce Jones has been a blessing. I've enjoyed learning from the older generation of leather men.
This has both helped me to grow in such a short time. I would love to see and let other boot co youth guys, new to the kink/leather scene, have the same experience of welcoming I had for my first time at boot co.